Hello!
My name is Anda. I was born 1971. in Latvia. I love this city very much. I'm mother for two, grown up kids. I love them so much. My life is very interesting. I can find something new always. Never stop go!
Art is my heart love. My women feelings I give inside in paintings. Smile, happiness, love and tears are there. But pottery is as strong man. My finger play with him much more exciting games. I say it with smile :)

I am happy you are here and look at my paintings. I want to make our life a little bit more colorful. I know people want to relax and have positive emotions. My love and relaxation is painting. When I see colors dancing, I always smile. I will be very happy if you find any of my paintings close to your heart and you want to have it. I wish this painting give you happiness moment and when you look at it, you feel that all around you is so colorful and you are very happy.

My paintings and ceramics are in private collections.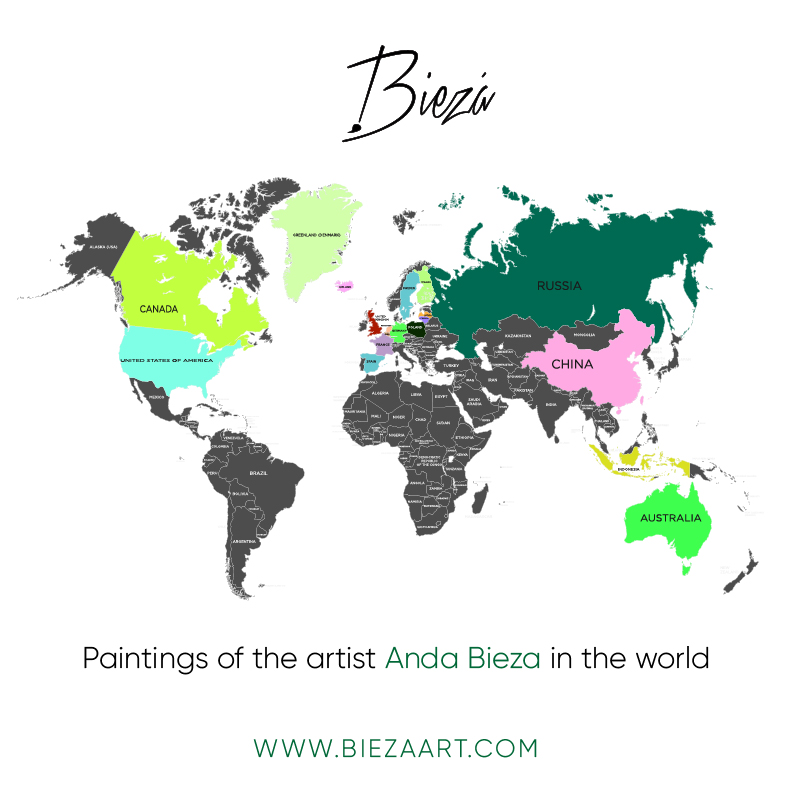 1 to 8 class I studied in elementary school - profile drawing, in Riga, Latvia.
I gained artistic bookbinding profession also. I've graduated from the Riga typographic art high school.
I have acquired higher education in business and marketing.
I work as a insurance specialist for 20 years and am insurance brokerage company co-owner.
After 20-year break I started to paint in 2013. again.
I started my activity as a ceramist in 2014. I work with black pottery.
I work with more media - oil, acrylic and watercolor. My last surprise for me was I found 3D art in resin. My teacher are from Canada. I paint small fish in resin with small paintbrush. This take more time because all of painting as jewelry. This painting give reality effects. Small fish looks like alive.

In addition from 2013 until now I studying painting:

The master-class education at:
Latvian Academy of Art, Riga, Latvia

Radmila Art Studio, Riga, Latvia

Igor Sakharov Art Studio, Moscow, Russia

Oleg Buiko Moscow, Russia

John Beckley

and other talented artists
Exhibitions, charity events and competitions:
December 2014 - January 2015 participation in the exhibition "Latvia in winter", organizer of "Pencil and Brush"
January 2015 interview, in collaboration with social television ChaulaTV.

May 2015 Personal exhibition "All About Love". Riga, Latvia

July 2015 - personal exhibition "I'm on a juicy life" Riga, Latvia

2015 charity campaign - a clay master class Children's Hospital oncology department

2015 participation in the charity event "Martha's Ballroom" program. The painting "Mother's Love" was donated to the Eastern clinic, for the purchase of equipment.

April 2016 Personal exhibition - I am happy from ear to ear (Riga, Latvia)

September 2016 Personal exhibitions - "3 exhibition" Latvia

November 2016 Personal exhibition - the stream ...

Best regards!